Flat Polished Chrome Cooker (45 Amp Double Pole) Switch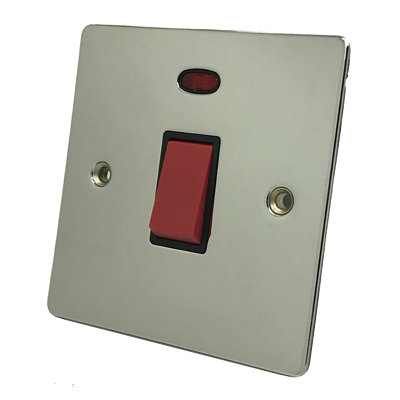 Click on finish to see the full range
Prices
*Free delivery on orders over £95
Notes
Single Plate 86mm x 86mm
Double Plate 145mm x 86mm
What is a Cooker (45 Amp Double Pole) Switch?
45 amp Double Pole switches also known as Cooker Switches, Shower Switches or Double Pole Isolator Switches. They are available in various types some with Neon indicator lights and others on a double sized front plate. 45 amp Double Pole Switches are generally used with High Powered Electrical appliances that need to be hard-wired as opposed to using a Plug and Socket. They are usually protected by a fuse or circuit breaker in a consumer unit or fuse board. Typical examples could be Cookers, Ovens, Shower Units or Hot Tubs etc the terminology Double Pole (DP) means that the switch breaks both the Live and the Neutral poles – this is widely regarded as the safest way to isolate an electrical load.
These switches are often used instead of a 20 amp double pole switch when the load is likely to be greater than 20 amps or the appliance has a surge at start up. In these circumstances fused protection should be offered at the consumer unit.
You can choose to have a neon indicator light that will show you when the appliance is live and we also offer the same unit on a double sized plate if it is replacing a similar sized switch.
Our 45 amp double pole switches have an earth terminal as well as 2 live and neutral terminals and these terminals will accept up to 2 x 10.0mm Twin & Earth Cables.
We recommend 35mm deep wall boxes for mounting our 45 amp double pole switches or 47mm deep wall boxes for shallow or flat plate ranges.
If you require any advice or assistance please call our sales team on 01926 289289.
Wiring Diagram
See the wiring diagram for Double Pole Switches.
Customer reviews for Flat Polished Chrome Cooker (45 Amp Double Pole) Switch
No reviews for the Flat Polished Chrome Cooker (45 Amp Double Pole) Switch yet - Be the first to review it.
Other reviews for the Flat Classic Switches & Sockets range are
Average customer rating:
5

stars - 5 reviews
Chose These
02 April 2021 by Nadeem, Walsall - Verified Customer
Looks at the two options with rocker switch or push switch and choose these as all look the same.
Covered A Hole
01 April 2021 by Stephanie, Durham - Verified Customer
Ordered to cover an unused hole in the wall. Looks better than the empty hole!
Double Dimer
30 March 2021 by Bob, Chelmsford - Verified Customer
Happy to find they could do 2 dimmers on the large switch size rather than the smaller square type you usually get. Very helpful with dimmer sizes two for the bulbs we had.
Rose Gold
24 March 2021 by Stacey R, Leicester - Verified Customer
These sockets are more rose gold which is what we were looking for with a lovely brushed effect. Very happy
Should Have Changed A Long Time Ago
15 February 2021 by Helen R, Southampton - Verified Customer
So much easier. Should have changed to having USB chargers in plug sockets a long time ago. Love the copper too.