Ludlow Outdoor Leaded Carriage Lamp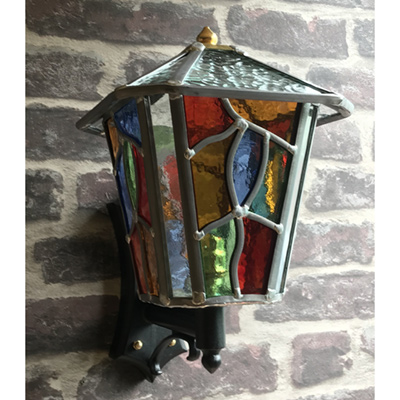 Click on finish to see the full range
Please click on an image to enlarge.
Prices
*Free delivery on orders over £95
Notes
Handmade in the UK using traditional methods of leaded light manufacture
Choice of Multi Coloured, Clear or Amber glass panels
Black aluminium wall bracket
Brass Lampholder - Bayonet Cap
100W Max
Width 180mm
Projection 280mm
Height 320mm
IPX3
Customer reviews for Ludlow Outdoor Leaded Carriage Lamp
No reviews for the Ludlow Outdoor Leaded Carriage Lamp yet - Be the first to review it.
Other reviews for the Outdoor Leaded Lanterns range are
Average customer rating:
5

stars - 3 reviews
Well Made Light
24 June 2021 by Diane Thurwell, Barnstaple - Verified Customer
Bought to hang outside my porch and everyone comments on how lovely it looks. I am so pleased.
Gorgeous Lamp
30 April 2021 by E Simpson, Stockton-On-Tees - Verified Customer
Brilliant service, arrived next day, the lamp is gorgeous and well made, will definitely purchace from them again. A+++++
Beautiful Lantern
21 April 2021 by Janice B, Shalford - Verified Customer
I am so pleased the light is beautiful and looks great lit up at night. It is well made and sturdy.