Metal Clad Surface Mount Boxes Surface Mount Boxes (Wall Boxes)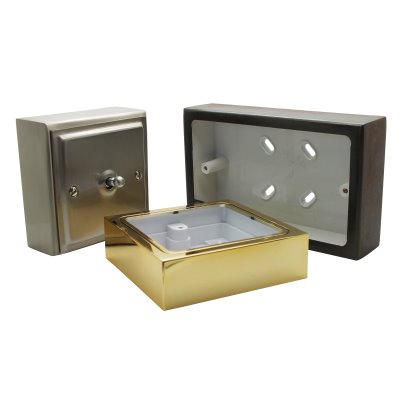 Prices
*Free delivery on orders over £95
Notes
Surface Mounted boxes are also known as a Pattress. They are available in single or double versions.
Our surface mounted boxes are made of steel and/or plastic and then finished to match the faceplate giving you an authentic look when mounting electrical accessories on the surface.
We have a Brushed Steel finish which fits in with Brushed and Satin Chrome, Satin Stainless and Satin Nickel (as pictured). We also have Steel Grey, Bronze and Matt Black and all of these finishes are made of a steel frame or sleeve that fits over and around a plastic pattress (provided).
We also offer a Polished Brass and a Polished Chrome Version but the sleeves or frames on these two finishes are made of plastic.
All of our surface boxes are 28mm deep and this allows you fit almost any faceplate in our range onto the front of these boxes.
These boxes have a single earth terminal or an earth fly lead.
Why not have a look at the other Super Sockets style products?
13 Amp Fuse Module, 13 Amp Modular Socket Module, 16 Amp Double Pole Switch Module, Aerial Socket Module, AV Quadaplex (SAT, TV, FM, DAB) Module, AV Triple Outlet (FM DAB / SAT / TV) Module, Blank Module, BNC Connector Module, Brush Module, HDMI Module, Intermediate Switch Module, Light Switch Module, RCA Phono Module, RJ45 Socket Module, Satellite F Connector Module, Screws, Speaker Socket Module, Surface Mount Boxes (Wall Boxes), Telephone Extension Module, Telephone Master Module & USB Charger Module