Timeless Aged TV / FM Socket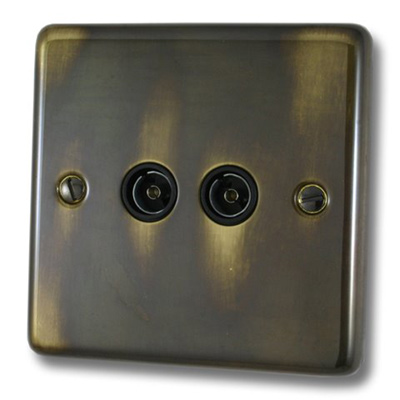 Click on finish to see the full range
Prices
*Free delivery on orders over £95
What is a TV / FM Socket?
TV/FM Sockets are also known as Coaxial Outlets, Aerial Sockets or TV Points. These sockets are used when wiring a Coaxial Aerial Cable feed for your television or FM radio. We have single TV points or twin TV, TV/FM points available. We supply isolated TV Sockets and these generally block interference from receivers (TVs, digital boxes, satellite boxes etc). If you require a non-isolated version for a satellite connection please refers to our Satellite Socket (F Connector) listing. These TV/FM sockets accept the standard hand crimp style male coax plug.
We also offer a variety of TV/FM Satellite Sockets including Diplexer, Triplexer and Sky outlets.
Please check your requirements with your local TV Aerial installer before ordering.
Each socket has a screw terminal and cable clamp on the back that wire via a screw connector.
We recommend 25mm deep wall boxes for mounting our TV/FM Sockets
If you require any advice or assistance please call our sales team on 01926 289289.
Wiring Diagram
See the wiring diagram for TV Sockets.
Customer reviews for Timeless Aged TV / FM Socket
No reviews for the Timeless Aged TV / FM Socket yet - Be the first to review it.
Other reviews for the Timeless Aged Switches & Sockets range are
Average customer rating:
5

stars - 2 reviews
Suits The Age of The House
10 April 2021 by John H, Chandlers Ford - Verified Customer
Glad to find these as they suit the house down to a tee rather than plastic or chrome type switches. You should advertise them in home magazines, I am sure there would be plenty of buyers.
Never Seen This Before
28 March 2021 by Phil, Wokingham - Verified Customer
Been searching for sockets and switches to match the house as it is old and bright colours don't go. This look is interesting and looks more genuine we think. Also noticed that each plate is slightly different so not regular pattern. Very good.